Partner hotels and restaurants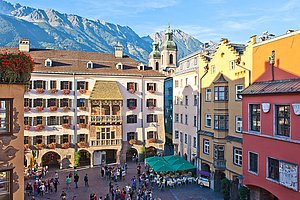 Innsbruck. Capital of the Alps
Urban vibes and mountain experiences. Soaring peaks and exhilarating moments. Cultural treasures and natural wonders. Innsbruck, the Capital of the Alps, boasts a fascinating and unique wealth of unparalleled attractions between 574 and 2,350 metres above sea level. Alpine-urban, sporty, dynamic and cosmopolitan and, at the same time, charming, distinguished and steeped in tradition – Innsbruck is a city with exceptional appeal.

As a festival city Innsbruck offers a wide spectrum of cultural events, world-renowned attractions, fascinating city tours, outstanding highlights both in its centre and in its surrounding mountains, authentic hospitality, contemporary vibes and a palpable passion for sport. Here the Alps are, quite literally, close enough to touch. An exceptional setting where city, culture and nature come together to delight all who enjoy exploring and savouring life to the full. Nowhere else are vibrant urban flair and rugged Alpine wilderness so close together. Welcome to Innsbruck, the Capital of the Alps.
Historical splendour meets pioneering innovation: Sightseeing in Innsbruck
Steeped in history yet with its finger firmly on the pulse of time, Innsbruck offers a unique mosaic of cultural history. The magnificent, imperial historic buildings in the city centre contrast with ground-breaking contemporary landmarks including several that are famous the world over such as the Bergisel Ski Jump designed by Zaha Hadid and the Golden Roof. In addition to the Imperial Palace and the Tirol Panorama, other places well worth visiting include the Imperial Court Church, Ambras Castle, the City Tower, St. James' Cathedral, Wilten Abbey Basilica and Maria Theresien Street.