Tyrolean State Sport Centre
The home of sport
The Tyrolean State Sport Centre - Landessportzentrum Tirol – is the home of sport. And the home of top athletes. State-of-the-art amenities, comfortable living space, inexpensive accommodation and food come together to create the perfect training facility for clubs and associations both Austrian and from abroad. It offers an ideal framework for competitive and recreational sport. What more could sports enthusiasts ask for?

The State Sport Centre offers a wide variety of options for use. Registered associations can hold training camps and educational programmes of all sizes here – accommodation and superb catering included.
Sport
Training facilities in the State Sport Centre
Competition hall
Spacious sports hall (1,000 m²) suitable for all popular ball sports, including spectator seating for 400 people.

Fitness training rooms
200 m² free weights area
100 m² cardio training area
100 m² area with strength training equipment
200 m² exercise and coordination room

Indoor swimming pool
25 m competition pool with 6 lanes Underwater camera for video analysis
Water polo goals
Sauna and sanarium
Cheerleader hall
Cheerleading-/Cheerdancehall about 400 m2. Also related uses, such as gymnastics, dance, acrobatics and so on possible.
Training facilities close to the State Sport Centre
Artificial grass pitch
Beach volleyball courts
Athletics grounds with a 400 m running track
TIWAG Arena (ice hockey, short track speed skating, figure skating)
Outdoor ice rink (speed skating)
Olympic ice track (bobsleigh, luge, skeleton)
Tivoli outdoor swimming pool (50 m competition pool)
Skiing and hiking areas within a 10-minute radius


The State Sport Centre offers training facilities and services combined with a hotel making it the perfect place for:
Training camps Training courses School sports weeks
Ski courses
Project weeks
Trainer/instructor education
Fitness and health breaks
Club excursions
Group stays and concert stays

Our team of staff are happy to help you with enquiries and bookings.
T: +43 (0)512 33838-460
T: +43 (0)512 33838-461
landessportzentrum@olympiaworld.at
www.landessportzentrum.tirol
Hotel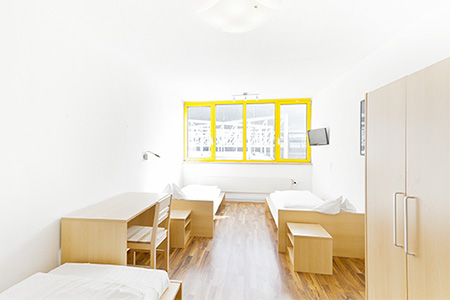 With 34 light, airy and comfortable rooms, the hotel in the State Sport Centre offers a pleasant home away from home for travelling guests. Whether you're returning from an exhausting training session or an eventful day's sightseeing, our rooms are available to all guests, from professional athletes to concert goers to city tourists.
All the rooms have an en-suite bathroom with a shower, a separate WC, cable television with flat-screen TVs and complimentary Wi-Fi.

Rooms
12 twin rooms – of which 8 are suitable for wheelchair users.
22 triple rooms

The State Sport Centre is wheelchair accessible throughout!

Included in the price is not only a buffet breakfast, but also the chance of meeting world and European champions as they go about their training routines.
Half-board or full-board is available for groups on request.
Check-in on weekdays: 2.00 pm – 10.30 pm
Check-in at weekends and on public holidays: 2.00 pm – 8.00 pm

Extras services in the State Sport Centre Hotel
Locked garage, daily charge for car parking for hotel guests (24 hours) € 6.00 per car.
Free luggage storage
Lockable room for priming, preparing and storing sports equipment.

Our team of staff are happy to help you with enquiries and bookings.
T: +43 (512) 33838-460
T: +43 (512) 33838-461
landessportzentrum@olympiaworld.at
www.landessportzentrum.tirol

Other facilities
Meeting rooms
Meeting room large – up to 40 people, equipped with projector, screen, flip chart
Meeting room small – up to 20 people, equipped with projector, screen, flip chart

Van rental
Exclusive rental of 9-seater vans for clubs. For further information click here!

Army Performance Centre 6
The Army High-Performance Sport Centre is located on the first floor of the State Sport Centre. Thanks to the facility's superb training conditions, numerous athletes, including European and world champions in summer and winter sports, come here to train on a regular basis.

Training in the State Sport Centre
A total of around 60 different clubs, associations, schools and high-performance athletes train here in the State Sport Centre. A detailed list of all clubs and associations, including contact names, can be found here.

Our team of staff are happy to help you with enquiries and bookings.

T: +43 (0)512 33838-460
T: +43 (0)512 33838-461
landessportzentrum@olympiaworld.at
www.landessportzentrum.tirol
Rates
| | |
| --- | --- |
| Twin or triple room incl. buffet breakfast | € 30,00 |
| Single room incl. buffet breakfast | € 38,00 |
| Surcharge for short stays of up to 3 nights | € 4,00 |
| Half-board with 3-course meal incl. a drink | € 9,90 |
| Full-board with 2 x 3-course meals incl. a drink | € 19,80 |
| Packed lunch | € 6,50 |
| Parking fee per car, per night | € 6,00 |
| All prices stated are per person, per night incl. local tax and statutory VAT. | |
| Discounts are available on the room prices for Tyrolean sports clubs and associations. | |
| | |
| Prices for sports halls and rooms | |
| | |
| SPORTS HALL | |
| Training in the large sports hall, per hour | € 42,00 |
| Training in the middle-sized sports hall, per hour | € 28,00 |
| Training in the small sports hall, per hour | € 14,00 |
| Training in the fencing hall, per hour | € 14,00 |
| Events in the large hall, per 4 hours | € 236,00 |
| Events in the large hall, additional cleaning fee | € 48,00 |
| WEIGHT ROOMS | |
| Training in the ground-floor fitness room, per hour | € 40,00 |
| Training in the first-floor fitness room, per hour | € 40,00 |
| Training in both fitness rooms | € 80,00 |
| Training in the exercise room | € 20,00 |
| INDOOR SWIMMING POOL | |
| Training, 1 lane, per hour | € 5,00 |
| Training, entire pool, per hour | € 30,00 |
| Training, school groups, per pupil | € 2,20 |
| Events in the indoor pool, per 4 hours | € 169,00 |
| Events in the indoor pool, additional cleaning fee | € 36,00 |
| SAUNA | |
| Entire sauna, per hour | € 46,00 |
| SANARIUM | |
| Entire sanarium, per hour | € 23,00 |
| MEETING ROOM | |
| Meeting room (max. 20 people) per 4 hours | € 32,00 |
| LECTURE ROOM | |
| Lecture room (max. 50 people) per 4 hours | € 75,00 |
| All prices stated incl. statutory VAT | |
| Meeting room price discounts are for Tyrolean sports clubs and associations. | |
| CHEERLEADER HALL | |
| Cheerleader hall, per hour (Mon. - Fri. from 6.00 PM - 10.00 pm, Sat. and Sun. from 8.00 am - 12.00 am | € 45,00 |
| Cheerleader hall remaining times | € 30,00 |