Hotel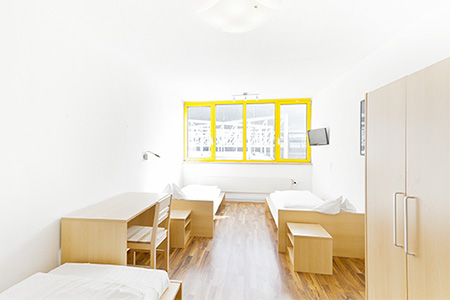 With 34 light, airy and comfortable rooms, the hotel in the State Sport Centre offers a pleasant home away from home for travelling guests. Whether you're returning from an exhausting training session or an eventful day's sightseeing, our rooms are available to all guests, from professional athletes to concert goers to city tourists.
All the rooms have an en-suite bathroom with a shower, a separate WC, cable television with flat-screen TVs and complimentary Wi-Fi.

Rooms
12 twin rooms – of which 8 are suitable for wheelchair users.
22 triple rooms

The State Sport Centre is wheelchair accessible throughout!

Included in the price is not only a buffet breakfast, but also the chance of meeting world and European champions as they go about their training routines.
Half-board or full-board is available for groups on request.
Check-in on weekdays: 2.00 pm – 10.30 pm
Check-in at weekends and on public holidays: 2.00 pm – 8.00 pm

Extras services in the State Sport Centre Hotel
Locked garage, daily charge for car parking for hotel guests (24 hours) € 6.00 per car.
Free luggage storage
Lockable room for priming, preparing and storing sports equipment.

Our team of staff are happy to help you with enquiries and bookings.
T: +43 (512) 33838-460
T: +43 (512) 33838-461
landessportzentrum@olympiaworld.at
www.landessportzentrum.tirol

Rates
| | |
| --- | --- |
| Twin or triple room incl. buffet breakfast | € 30,00 |
| Single room incl. buffet breakfast | € 38,00 |
| Surcharge for short stays of up to 3 nights | € 4,00 |
| Half-board with 3-course meal incl. a drink | € 9,90 |
| Full-board with 2 x 3-course meals incl. a drink | € 19,80 |
| Packed lunch | € 6,50 |
| Parking fee per car, per night | € 6,00 |
| All prices stated are per person, per night incl. local tax and statutory VAT. | |
| Discounts are available on the room prices for Tyrolean sports clubs and associations. | |
| | |
| Prices for sports halls and rooms | |
| | |
| SPORTS HALL | |
| Training in the large sports hall, per hour | € 42,00 |
| Training in the middle-sized sports hall, per hour | € 28,00 |
| Training in the small sports hall, per hour | € 14,00 |
| Training in the fencing hall, per hour | € 14,00 |
| Events in the large hall, per 4 hours | € 236,00 |
| Events in the large hall, additional cleaning fee | € 48,00 |
| WEIGHT ROOMS | |
| Training in the ground-floor fitness room, per hour | € 40,00 |
| Training in the first-floor fitness room, per hour | € 40,00 |
| Training in both fitness rooms | € 80,00 |
| Training in the exercise room | € 20,00 |
| INDOOR SWIMMING POOL | |
| Training, 1 lane, per hour | € 5,00 |
| Training, entire pool, per hour | € 30,00 |
| Training, school groups, per pupil | € 2,20 |
| Events in the indoor pool, per 4 hours | € 169,00 |
| Events in the indoor pool, additional cleaning fee | € 36,00 |
| SAUNA | |
| Entire sauna, per hour | € 46,00 |
| SANARIUM | |
| Entire sanarium, per hour | € 23,00 |
| MEETING ROOM | |
| Meeting room (max. 20 people) per 4 hours | € 32,00 |
| LECTURE ROOM | |
| Lecture room (max. 50 people) per 4 hours | € 75,00 |
| All prices stated incl. statutory VAT | |
| Meeting room price discounts are for Tyrolean sports clubs and associations. | |
| CHEERLEADER HALL | |
| Cheerleader hall, per hour (Mon. - Fri. from 6.00 PM - 10.00 pm, Sat. and Sun. from 8.00 am - 12.00 am | € 45,00 |
| Cheerleader hall remaining times | € 30,00 |